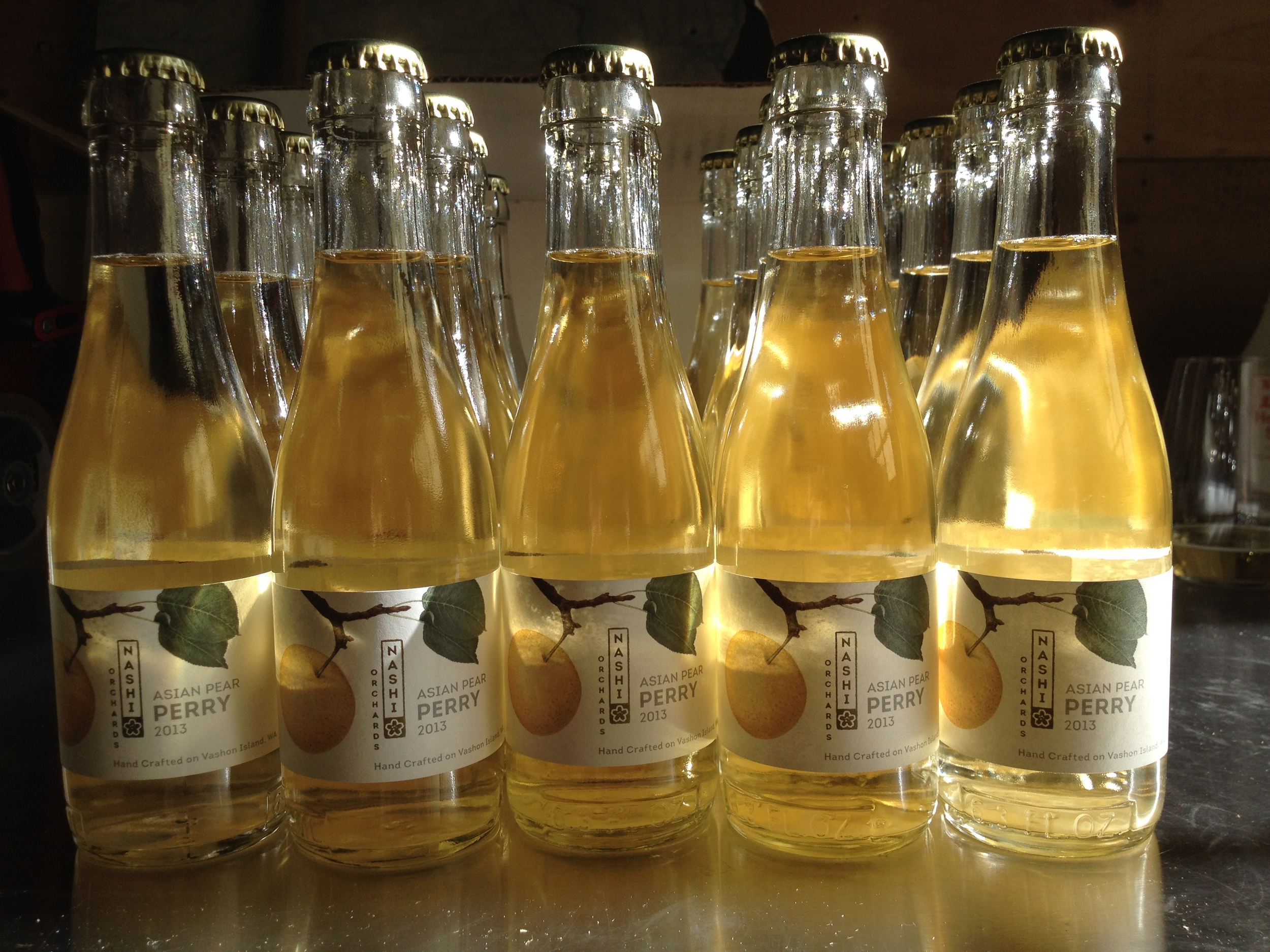 Chojuro Release July 2014
FOR IMMEDIATE RELEASE
Media Contact:
Kathryn Morris
kathryn@proncall.com
845-635-9828
Nashi Orchards Introduces Chojuro Blend Asian Pear Perry
Seattle, WA – July 14, 2014 – Nashi Orchards, located on Vashon Island near Seattle, today announced the release of its first vintage perry, Nashi 2013 Chojuro Blend Asian Pear Perry.
Perry, made for centuries in England and France, is an alcoholic beverage made from fermented pears juice. Though it is easy to think of perry as a cider made from pears, a better comparison is to white wine – the fermenting and aging process is almost identical to winemaking. Asian Pears, also known as nashi, are native to Japan and other Asian countries and are crisp, sweet and juicy. There are numerous cultivars of Asian pear including Chojuro, featured in the Chojuro Blend. This Asian pear variety is known for its distinctive rum flavor and honey-orange color skin. Nashi is one of a handful of perrymakers in the world using Asian pears to make perry.
"Nashi Orchards' Chojuro Blend has a floral aroma, is lightly effervescent and exhibits flavors of bright summer fruit and pear and has a clean, refreshing finish," said Jim Gerlach, co-owner and Perrymaker. "We work very hard to manage our soil and the conditions of our trees to be sure to embody the essence of flavor from the land in every blend and in every bottle."
Nashi Orchards' Perry is unfiltered, unpasteurized and gluten-free. The fruit is harvested at the peak of ripeness, and fermentation is carefully controlled to preserve the natural flavor and sweetness of the fruit. No additional sugars or flavorings are added to mask the delicate, nuanced flavor of the Nashi Orchards Asian Pear Perry.
Perrymaker Jim Gerlach, a registered landscape architect, has a passion for plants, his orchard, their dogs, sheep and, of course, wine-making. By understanding the optimal way to support the trees in producing the most flavorful fruit, he is able to produce the highest quality and most flavorful Perry. Gerlach's focus on the development and care of the nashi pear cultivars in the orchard's Vashon Island location brings a unique terroir to Chojuro Blend Asian Pear Perry.
Consummate foodies, Gerlach and Nashi co-owner Cheryl Lubbert suggest the Perry be served as an aperitif or with Northwest oysters, halibut or poultry.
Nashi 2013 Chojuro Blend Asian Pear Perry is available in Washington state, either directly from the Orchard or from Seattle-area specialty retailers. Several restaurants in the region also serve Chojuro Blend Asian Pear Perry, including Marjorie Restaurant.
About Nashi Orchards
The Nashi Orchards winery is located on Vashon Island near Seattle, where it is a part of a growing community of committed producers of artisanal foods, wines and spirits. The orchard was established in the early 1980s when its original owners transplanted the most promising Asian pear varieties from a trial orchard. New owners, Jim Gerlach and Cheryl Lubbert have completed significant renovations over the last few years to increase the health and productivity of the trees. Nashi Orchards LLC was formally established in 2011 and approved as a bonded winery in the fall of 2013. Join Nashi Orchards in their passionate pursuit of delicious libations with a private orchard tour and tasting by appointment. Contact us with retail or wholesale requests at 206-463-0358 and follow us on Facebook, Nashi Orchards or on Twitter @Nashi_Orchards. For more information: www.nashiorchards.com.
# # #